How Vision Therapy Helped this Gymnast – Mackenzie's Success Story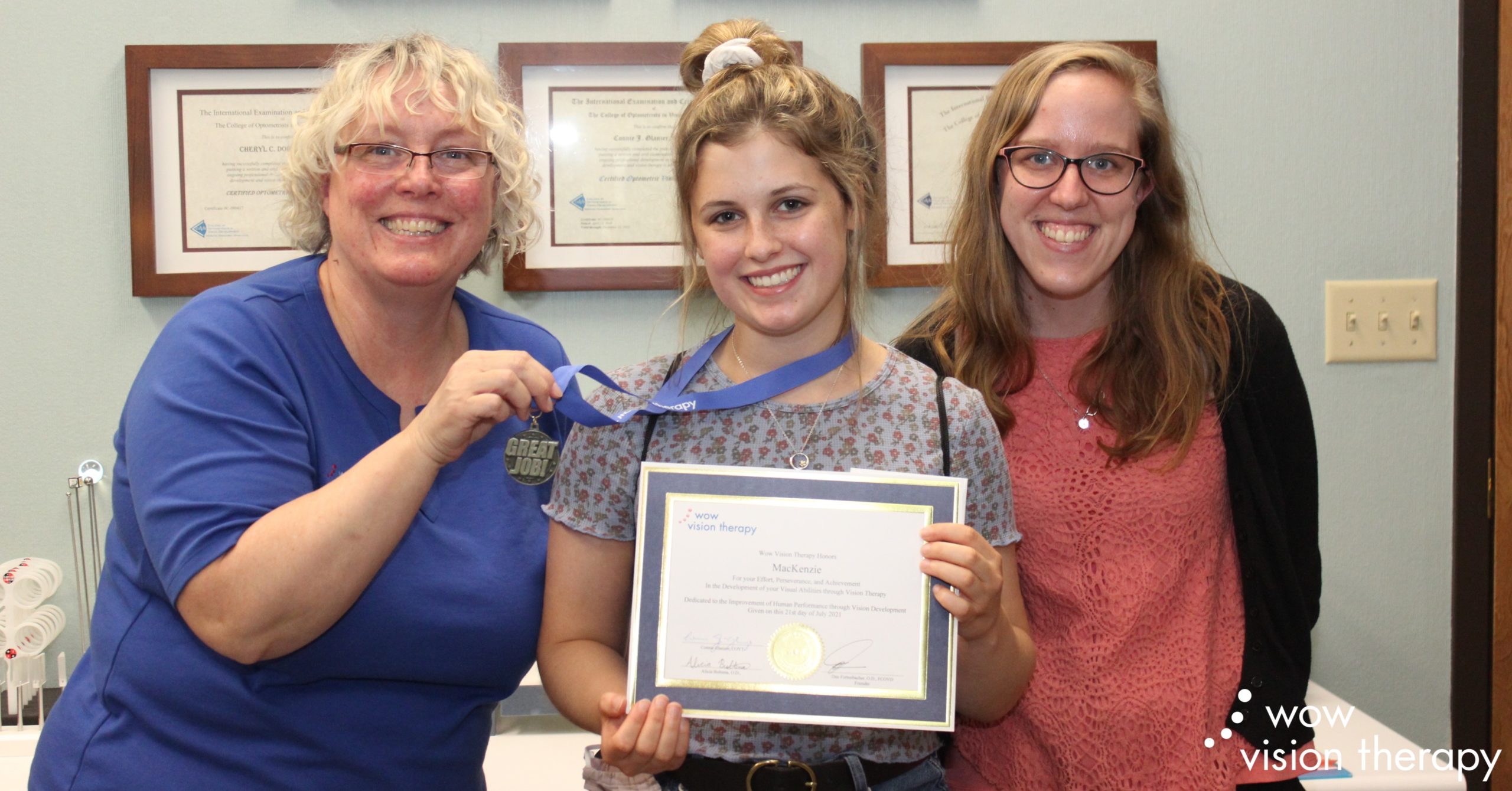 By: Mackenzie (Patient)
In February of 2019, I suffered a concussion from gymnastics. A bad concussion. It took me out of my life and sport for about two months.
When I returned to gymnastics after some healing and recovery, something still seemed off. While tumbling on the floor, I would get random spells of dizziness, but because they resolved after a couple of seconds, I ignored it. When flipping on the balance beam, I would hope and pray that I landed on the beam and not on the ground because I couldn't tell where my body was in the air, but I convinced myself that I was just learning a new skill, so I ignored it. On the vault, I landed on my knees instead of my feet over and over again because I couldn't see the landing mat., but because of fear, I ignored it.
However, in November of 2020, I could no longer ignore these symptoms. Staring at my computer screen all day gave me blinding headaches, and the dizziness that started at gymnastics practice was now constant. Complete rest from gymnastics, reducing my school work, concussion testing, and even a brain MRI didn't help me feel any better or give my mom and me any answers.
At this point, I was hopeless, I couldn't compete in the sport that I love, I was falling behind in my schoolwork because I couldn't make it through a school day without having to take a nap, and I couldn't be with my friends because I felt so sick all of the time. I just wanted to feel like myself again.
My luck finally changed when my high school's athletic trainer recommended Wow Vision Therapy in January 2021.
After an exam with Dr. Dan, I learned that I had multiple vision disorders. It was such a relief to hear someone tell me that he understands what's wrong with me and that he can help me.
At this point, most of my tests showed that I was seeing, reading, tracking, and a lot of other fancy words at an elementary school level. Dr. Dan told me that they could help me get back to normal or even better than normal and recommended therapy.
During my sessions at Wow Vision Therapy, Dr. Alicia and Miss Connie went above and beyond to work with me. They helped me back onto my feet (both figuratively and literally, I spent many of my first sessions lying on the floor to regain my balance), gave me specific and helpful advice on how to control my symptoms, and really took the time to get to know me. It made a scary and sad experience much more bearable.
Progress seemed to be slow at first, but Dr. Alicia and Miss Connie promised me that things would improve, and although I didn't believe them at first, they were right.
As time went on, I could read without pain, sit in a car without feeling nauseous, and even start to go upside down again without losing my balance.
I would recommend Wow Vision Therapy to anyone struggling with a concussion the way I did. I wish that my mom and I were able to find this help sooner than we did. Without the guidance of these doctors and therapists, I honestly don't know where I'd be today. I'm so thankful for them and all of their help.
GET IN TOUCH
To learn more, please fill out the form below and one of our Patient Care Coordinators will be in touch to answer your questions or help schedule an evaluation for you.
FEATURED IN OR ASSOCIATED WITH